How are you feeling?

In the case that you or a loved one is in need or you just simply need someone to talk to, our district and school offer a variety of resources to help you.
---
D'Veal Family and Youth Services
Offer support groups to help families and youth learn new skills, gain peer support in difficult times, and reduce stress. Groups range in topics, some options include depression, coping with immigration, parent support, etc.

Contact via e-mail ([email protected]), call (626)216-6751, or visit their website here D'Veal Services
---
Enki Health Services
Provides mental and emotional health services through telehealth, telephone, and in person.

Call (866) 227-1302 or visit their website here Enki Services
---
Youth Coordinated Entry System Services
Provides youth, ages 16-24, to access housing resources and supportive services, including education support, employment assistance, and mental health services. Through YCES, youth who are experiencing homelessness or housing instability can be linked to available resources in Los Angeles County.

Contact: [email protected] or visit their website here
Coordinated Entry System
---
Alma Family Services
Call (626)279-2539 ext. 4790 for individual counseling, parenting classes, and online wellness groups and activities.
---
Foothill Family Services
Provides counseling services through teletheraoy and other services by phone. Please have Medi-Cal available at the time of the call.

Call (626)993-3000 option 4 for more information
---
RHS Guidance Office
Rosemead High School offers full support for our students, whether it be in regards to academics, peer support, or just simply needing someone to talk to. We are here for you.

Navigate through our Guidance Office Website for more information (contacts, resources, etc):
Guidance Office
---
Here ownward are reliable outside sources that can help you whenever you're in need.
---
National Suicide Prevention Lifeline
The Lifeline provides 24/7, free and confidential support for people in distress, prevention and crisis resources for you or your loved ones, and best practices for professionals.

800-273-8255
national suicide prevention website
Anxiety and Depression Association of America (ADAA)
provides information on prevention, treatment and symptoms and anxiety, depression and related conditions

Call (240) 485-1001
---
The Trevor Project
provides crisis intervention and suicide prevention services to lesbian, gay, bisexual, transgender, queer & questioning LGBTQ people under 25. Available 24/7/365

Call 1-866-488-7386
or text "START" to 678678
---
National Alliance on Mental Illness (NAMI)
focuses on raising awareness and providing support and education to improve the lives of people with mental illness and their loved ones.

Visit their website: NAMI for more information
---
Substance Abuse and Mental Health Services Administration (SAMHSA)
SAMHSA's National Helpline is a free, confidential, 24/7, 375-day-a-year treatment referral and information service (in English and Spanish) for individuals and families facing mental and/or substance use disorders.

Call SAMHSA's National Helpline: 1-800-662-HELP (4357)
---
Mental Health America (MHA) on Racial Trauma
Get information, resources, prevention tips and more regarding racial trauma individually and in communities.

Visit the website: Racial Trauma
---
We hope this list of resources has helped you or your loved ones at some point. Please feel free to come back whenever you think you need it! Remember, your RHS staff are here for you.
---
Is this all you need?


Feeling overwhelmed with school?
It's okay to feel overwhelmed with school and life in general. Everyone does at some point and no one's going to judge you for it. You're doing great! If you can, take a moment to catch your breath and do something good for yourself. There are plenty of things you can do if you don't have someone to do it for you.
you can:
take a bathtake a walkmake your favorite dish/drinktake a napwatch a movie
We all live busy lives, whether it be school, life, work, and any other demanding expectations of our daily lives. Everyone needs a break every now and then, and you're doing great! We're proud of you!! :D
---
anxious and sacred
Some important things you should be asking yourself in order to prevent things from going out of control: what caused you to be anxious? why are you anxious in the first place? It's important to recognize your triggers before they happen.
If you feel that your anxiety is worsening, here are a few things you can do to help manage it a bit.
---
breathing exercises: below is one of many breathing exercises that you can use. By evening out your breaths, you'll slow your heart rate which will help you calm down.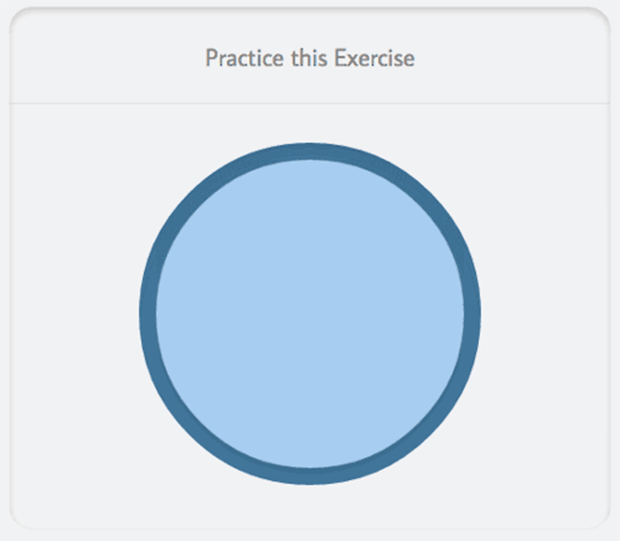 some common triggers for anxiety include, but are not limited to
school and/or work stressgenetics, anxiety can be inherited from your familytraumaphobias, such as claustrophobia (fear of small spaces)health issuescaffeineside effects of certain medication
It is important and beneficial for you to recognize tiggers you may have. Identifying these triggers is the first step towards managing them.
---
Daily meditation helps with anxiety, too! We hope these will help you get through those hard times. Here's a 20 minute video, a 10 minute one, and a 5 minute one.
---
It's good to note that anxiety attacks and panic attacks are two very different things! Although they do share similar characteristics, a panic attack is much more severe than an anxiety attack. Below is a chart detailing the differences between the two.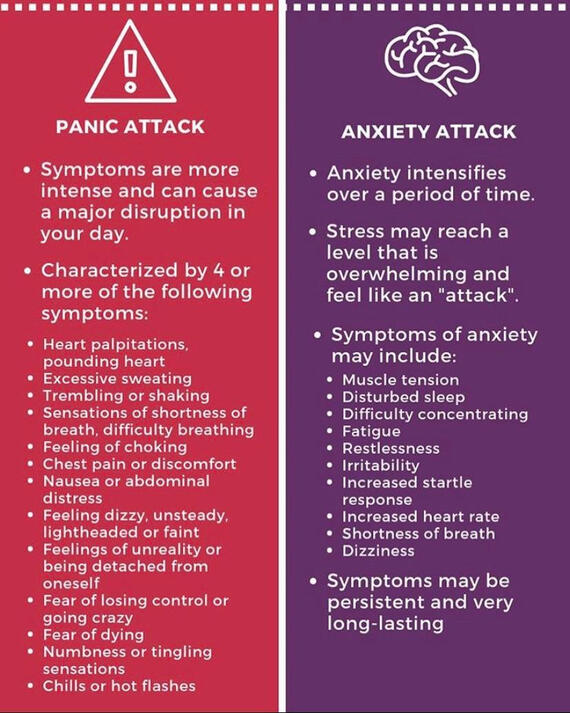 What to do to calm an anxiety or panic attack?
breathe deeplysplash water on your facelisten to calming musicdo something physicalpicture your happy placepractice mindfulness (focus on an object)
These are just basic things, some might work for you and some might not. You will get through it, whatever it may be.
---
Is that all you needed?

feeling senseless?
Believe it or not, this happens more often to people than they would probably like to admit. You may start feeling apathetic and it is really easy to stay in this state of numbness. These types of feelings can affect your ability to focus in school, maintain relationships, and enjoy life. Everybody experiences it from time to time, situational apathy is normal.
As soon as you wake up, get out of bed, fight the urge to stay there all day. They key to getting back your motivation starts by simply putting your feet on the ground in the morning and getting out of bed. After, try getting ready for the day (dressed) because if you stay in your pajamas all day, it's easy for your brain to let the rest of you off the hook too.
Track your successes, big or small. Tracking these things can help you raise confidence and initiate a positive cycle. At the end of each day, take a note of at least three ways you were successful that day. It helps more than you think!!
Rely on your support systems, even if you currently have trouble reaching out to them. Reach out to the people who love you, they may be able to help you and connect with you. Through them, you can be able to find relief in what you're going through.
Remember!! This is something that happens to most people. You're not alone in this, even if that fact is hard to believe.
for addition helpful resources click here
---
Is that all you needed?

Wonderful to hear! Remember that this website will always be available for you to acces whenever you need it. Have a great day!